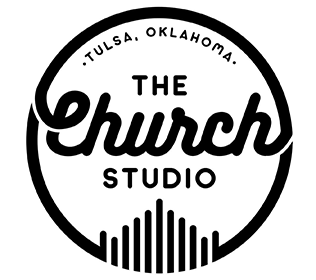 History of Church
Built in 1915, the original church started as a beautiful red brick structure; built by the Grace Methodist Episcopal (M.E.) Church when the State of Oklahoma was only 6 years old.
The Church Studio
In 1972, the Grammy award-winning and internationally recognized, Leon Russell, turned the mysterious historic stone church into a world-renowned recording studio and home office for his record label, Shelter Records. Leon; Oklahoma's legendary musician, songwriter, producer, and entrepreneur; was one of the pioneers for the "Tulsa Sound" and helped foster a musical workshop and engaging community for some of the world's biggest acts.
Learn more: http://www.thechurchstudio.com

Beautifully and historically restored in 2019, The mansion's name "Harwelden" is a Welsh word meaning "place from which the Harwell's came" and will forever honor the founding couple who were early settlers of Tulsa; Earl and Mary Harwell. Because of Mr. Harwell's success from the oil industry, he spared no expense on the construction which began in 1921 and was completed in 1923. The stunning architecture is English Tudor as well as Collegiate Gothic. The decor has a lot of "Tulsa Blue" which is a nod to Mr. Harwell's affinity for and generosity to the early University of Tulsa, known then as Kendall College.
The Harwelden Mansion sits on one full city block and is available to rent as an event center, venue as well as for overnight guests as a Bed and Breakfast. The mansion is listed on the National Register of Historic Places and offers historic tours, traditional English Tea each month and various other programming that pushes the mission forward.
Learn more about living the #mansionlife http://www.harweldenmansion.com
Community HigherEd (CHE) is a non-profit 501( c )(3) corporation founded by Ms. Knox with the mission to advance the purpose of Community Care College, Clary Sage College, and Oklahoma Technical College through active engagement, advocacy, fundraising, and stewardship. The charity plays a significant role in the Tulsa community.  Addiction, abuse, and poverty are all reduced when a post-secondary education is achieved.
Learn More: http://www.communityhighered.org